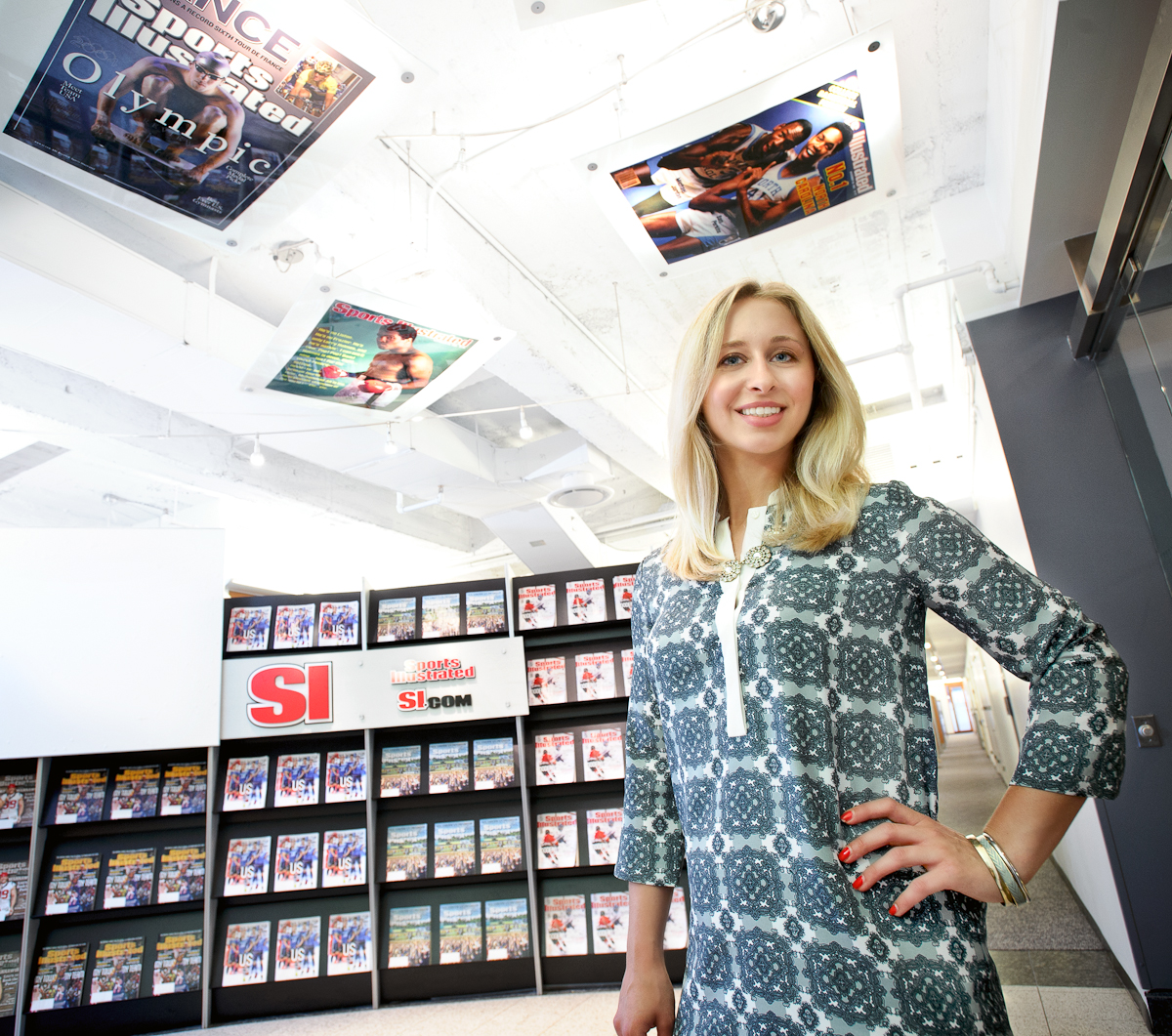 Kaitlin McCabe '16 is advancing her professional aspirations this summer as an editorial intern at Sports Illustrated through Time Inc. in New York City, with funding from the Hamilton Summer Internship Support Fund. McCabe was placed at SI through the American Society of Magazine Editors' Magazine Internship Program, a prestigious and competitive internship program that has since its establishment in 1967 placed more than 1,800 students in various media internships throughout New York and Washington, D.C.
No stranger to journalism, McCabe has since her freshman year been involved with the Spectator, Hamilton's student newspaper, where she rose in rank from writer to news editor, to editor-in-chief. She is also a national news blogger for Her Campus, an online publication and community for collegiate women, and has held the position of editor in chief for Her Campus' Hamilton chapter for two years. McCabe has also featured stories on current events and sports in the Clinton Courier, a local newspaper.
"I have always loved writing, and since I became extensively involved in student newspapers in high school, I knew that my ideal career path would have a writing component," says McCabe. "Sports media has become increasingly appealing to me throughout my internship; there is always a game to discuss, a player to study, a team to feature. There is so much energy in journalism and that passion and enthusiasm is exponentially greater in the world of sports media."
McCabe's position at Sports Illustrated is ideal not only for its connection to her professional ambitions, but also due to the exciting and varied nature of her work.
"I am a Sports Illustrated reporter, which means I fact-check articles for the publication," she explained. "Currently, Sports Illustrated is closing the annual 'Where Are They Now?' issue, for which I was assigned features on the Sochi Dogs (i.e., the stray dogs rescued by Olympians during the 2014 Sochi Olympics) and the Baha Men. For these pieces, I had the opportunity to call Olympians such as silver metal slopestyle skier Gus Kenworthy and New York Rangers center Derek Stepan. I spoke to a guitarist in the Baha Men music group to discuss their infamous jock jam, 'Who Let the Dogs Out,' and was even given tickets to an upcoming concert by their manager!"
McCabe expanded on her fondness for the publication, saying "Sports Illustrated is unique in the sports media world because it is not solely interested in reporting on games and results: rather, much of the magazine is studies of teams and players in long-form journalism. It provides a deeper look into sports for the big buffs out there and thus creates a more captivating publication," she remarked. "While I don't pretend to know everything about sports, I love the magazine's style and its personalized engagement with its audience. SI basically has a cult following, and each day I work there I become even more of a member," McCabe said.
However, the big takeaway McCabe has gained from this opportunity has been in regard to her own plans for the future. "Significantly, my internship has illuminated my career aspirations. The fast pace of a weekly publication appeals to my personal drive and my wholehearted devotion to my work. I've also missed writing," she said, concluding "While I hope to someday work in a higher level editor position, like managing editor, I've learned through my summer break from journalism that my writing has not only become a strong skill of mine but a passion on which I want to focus my career."
Kaitlin McCabe's bylined article: Sprinter Carlin Isles finds new Olympic dream with USA Rugby in Rio 2016