"Broadway and Tin Pan Alley" is Next Program in America's Music/Film Series
---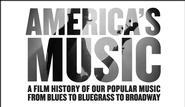 "Broadway and Tin Pan Alley" is the theme of the second session in the America's Music film history screenings and musical performances, sponsored by the Kirkland Town Library (KTL) and Hamilton College's Burke Library. All films and performances are free and open to the public.
The screening of Broadway: The American Musical: Episode 2, "Syncopated City (1919-1933)" will take place on Tuesday, Sept. 17, at 7 p.m., in Bradford Auditorium, KJ. The film covers the 100-year history of musical theater and the story of its relationship to 20th-century American life.
In conjunction with the screening a musical performance, "Broadway at the KTL," with Amy James and Bob Ford, will take place on Friday, Sept. 20, at 7:30 p.m., at the KTL. The program will feature songs of Kern, Porter, Gershwin, Rodgers and Hart, and Rodgers and Hammerstein.
KTL and Burke Library were joint recipients of a $2500 National Endowment of the Humanities (NEH) grant to fund "America's Music: A Film History of Our Popular Music from Blues to Bluegrass to Broadway." It is a six-week program series of documentary film screenings and scholar-led discussions of 20th century American popular music. KTL and Burke Library are among 50 sites nationwide selected to host this program series.
The screenings alternate location between KTL and Hamilton College. The series continues through Nov. 14.