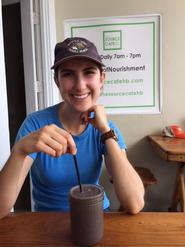 Madison (Maddy) Fredrick '17 is combining her passions for the environment and cooking in an internship this summer at Farmscape, the largest urban farming venture in California.
"As a cook, I believe freshness of ingredients is the most essential part of preparing a dish," said Fredrick., adding, "As a concerned citizen, I believe respecting the land through local, organic farming is the only sustainable agricultural option for our planet."
At Farmscape, farmers create rooftop gardens for restaurants, school gardens and gardens for private clients. Fredrick, a resident of Marina Del Ray, Calif., learned about Farmscape through an article in the LA Times. "I decided to call them and demonstrate my interest in the company. After following up, I was contacted by them and conducted a phone interview and was hired to work as an intern this summer," she explained.
During her internship Fredrick, a sociology major at Hamilton, wrote an article for the Farmscape blog and learned about the mission and strategies of the company. She also worked on a farm at a private golf club in Beverly Hills where she was taught organic farming practices and harvested crops for the club's renowned restaurant.
"The Farmscape staff was incredibly knowledgeable, and share my philosophy about the importance of local agriculture," said Fredrick. "Both experiences provided a holistic perspective of the farm to table movement."
She added that "Hamilton has helped me discover my interest in working with people, health, and nutrition, and will continue to provide an education where these interests will blossom into my ultimate career path."
Fredrick stresses the importance of respect for farmers. "Whether they are part of a small coalition of organic farmers in upstate New York, an independent worker growing food for school gardens, or your neighbor who belongs to a community garden, supporting local farmers promotes environmental and social sustainability," she noted.