Miguel Coyula Film Memories of Development to be Screened
---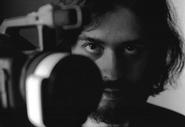 Cuban filmmaker Miguel Coyula will present his film Memories of Development on Friday, March 4, from 7 p.m. to 10 p.m. in the Science Center's Kennedy Auditorium. A discussion will be led by Coyula following the film screening. The screening and discussion are free and open to the public.
The 2010 Memories of Development is the sequel to the 1968 Cuban classic Memories of Underdevelopment. Both films are based on the novels by Cuban author Edmundo Desnoes. In Memories of Development, an intellectual leaves behind the Cuban revolution and the "underdevelopment" to begin a new life in the "developed world." The film focuses on the trials and tribulations faced by the stranger as he tries to fit into this "developed" society.
After making his first short film with a VHS camcorder, Coyula was admitted to the International Film School in Cuba. On invitation from the Providence Latino Film Festival, he travelled to the United States and began studying at the Lee Strasberg Theatre Institute. With only $2000 over a two-year period, Coyula made the award-winning feature film, Red Cockroaches (2003). His other films include Idea (1998) and The Plastic Fork (2001). Coyula is currently in the production of the film Blue Road.