Neuro and Psych Students Publish in Experimental Brain Research
---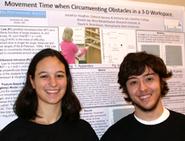 In 2009, Deborah A. Barany '11 and Anthony W. Sali '10 participated in Hamilton's Summer Science Research Program. Under the supervision of Psychology and Neuroscience professor Jonathan Vaughan, they investigated how people control movements in complex environments. A poster about the work was presented at the annual Psychonomic Society meeting in 2009.
Most recently, Barany and Sali are among the authors of a just-published research report: Vaughan, Barany, Sali, Jax, and Rosenbaum, "Extending Fitts' Law to three-dimensional obstacle-avoidance movements: Support for the posture-based model," which appears in Experimental Brain Research (The other two authors are Steven A. Jax, institute scientist at the Moss Rehabilitation Research Institute, and David A. Rosenbaum, distinguished professor of psychology at Penn State).
Fitts' Law describes how the time required for a person to perform a simple movement is affected by the distance of the movement and the accuracy that the movement task requires. For example, on a computer screen it takes longer to move the cursor onto a very small icon that onto a large one, so that a long mouse movement across a computer screen onto a large icon may be executed as quickly as, or even faster than, a shorter mouse movement that hasend to on a small icon. Most research on Fitts' Law has been confined to movements across flat surfaces. Barany and Sali's work extends to a more natural task, manipulating a tool around obstacles. Increasing our understanding of how people move in 3-dimensional space is relevant to areas such as physical rehabilitation, ergonomics and robotics.
A psychology concentrator, Sali is now in the Ph.D. program in cognitive neuroscience at Johns Hopkins University. Barany devoted her most recent summer to developing a computational model of multisensory integration at the Center for Visual Science, University of Rochester; she will present this work at the Family Weekend Science Research poster session on October 29. She is now conducting a senior project in neuroscience, investigating brain activity during movement preparation, again working with Prof. Vaughan. After Hamilton, Barany plans a research career in neuroscience.