Nordic Ski Team Having Success in Northeast Competitions
---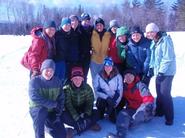 Hamilton's Nordic Ski Team is making a name for itself in competitions in the Northeast. Emily Stinson '09 has been instrumental in organizing a team that travels and competes every weekend.

In January the team raced at Viking Nordic Center in Londonderry, Vt., in the USCSA league -- a collegiate league comprised of such colleges as Cornell, Clarkson, Yale, Army, William Smith, Skidmore and Ithaca. The team competed in two races, a 7.5k skate under the lights at night, and a 7.5k classic race the next morning. Team Hamilton won both races for the women. McKayla Dunfey '12 came in 2nd in both races, Cassidy Jay '11 placed 11th for the skate and 5th for the classic and Stinson was 4th in both races. The top three racers score for each team.

Most recently, on the weekend of Jan. 31-Feb.1, the team raced at Lake Placid at Mt. Van Hoevenberg and placed second to Cornell in a 10k classic race and a 10k skate race.