Proposed Arts Complex is a Gem
---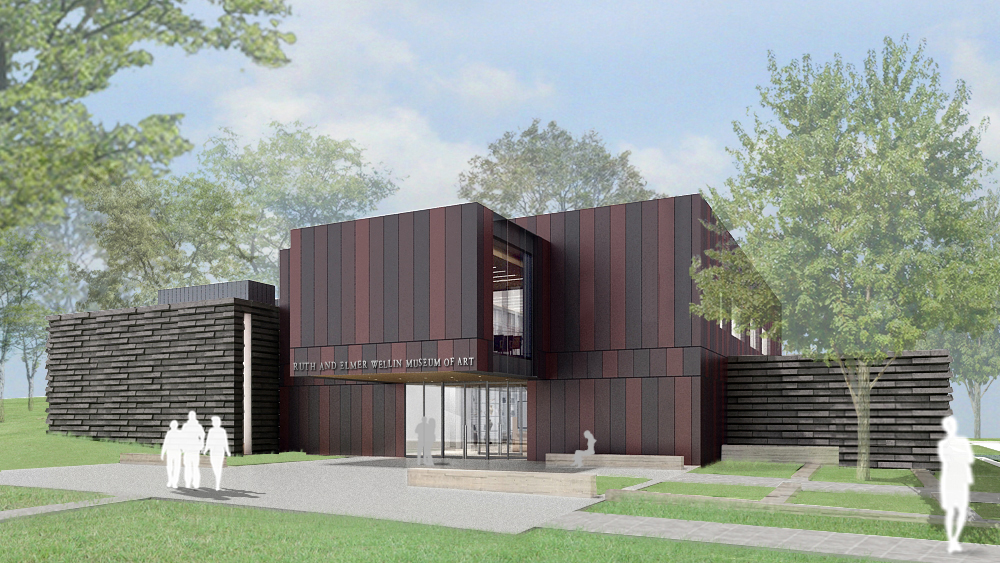 One of the priorities of the recently launched $117 million Bicentennial Initiatives campaign is construction of new art facilities that will include a studio arts building, a theatre complex, and a teaching museum on College Hill Road. Drawings and details of the complex can be viewed on the Arts Facilities website.
A $10 million lead gift from Hamilton trustee Keith Wellin '50 and his wife Wendy during the prior capital campaign is enabling Hamilton to begin construction on a new 30,000-square-foot museum this spring with an anticipated opening in fall 2012. Named in honor of Mr. Wellin's parents, the Ruth and Elmer Wellin Museum of Art will be a creative "teaching laboratory" where students are encouraged to ask questions, make connections to disciplines far beyond the arts, and develop visual literacy skills critical to life and learning in the 21st century.
The new museum will be built at the corner of College Hill Road and Griffin Road, where the Philosophy Department offices are currently located. The building housing those office will be demolished and the department will move to 202 College Hill Road.
Nearly every space in the Wellin Museum of Art is being designed as a place for teaching and learning. Close by the 6,200-square-foot gallery space, on the first floor, an Open Archive will provide ready access by students and faculty to a major portion of the Hamilton collection and will include a space where small groups can gather for discussion and presentation.
On the second floor, a fully-equipped 48-seat classroom will be a place for small lectures and will provide a much-needed space for courses, particularly in the humanities, in which the study of film is a significant component. The so-called Closed Archive nearby will include two seminar tables and associated projection equipment. The second-floor lounge, overlooking the sculpture courtyard, is being conceived as a place where students can study or have one-on-one meetings with faculty or other students.
President Joan Stewart explained, "If we are to educate Hamilton students to address poverty and sickness, and to tackle questions of technology, the economy and the environment, we must educate them to be fully human. And what the arts do is to humanize us."
The studio arts space being envisioned includes large common areas for classes and exhibitions, smaller workshops and studios surrounding those areas, and a new interdisciplinary, digitally based Studio for Trans-media Arts and Related Studies (STARS). The new space will upgrade the offerings of the List Art Center, which was originally built in 1970 and renovated more than 15 years ago.
The new theatre facility will enable the department to expand its productions and provide students with vastly improved performance and teaching venues. Currently, the lack of adequate wing space and fly space in Minor Theater severely limits the plays that can be produced and the manner in which they are staged in this facility. In addition, cramped and ill-equipped scenery and costume shops make the teaching of technical theatre difficult and constrain the kinds of sets and costumes that can be constructed. The lack of a smaller teaching theatre makes the teaching of directing and other performance-based classes difficult.