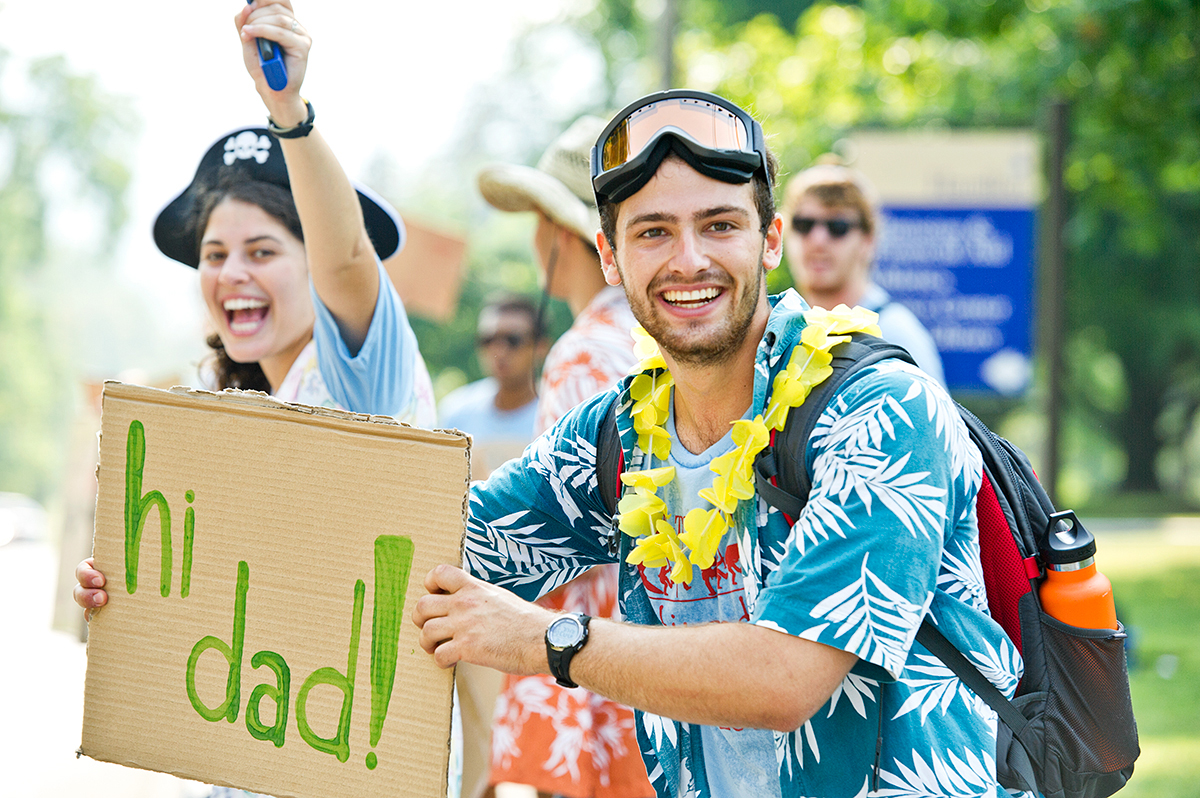 Hamilton College welcomed the 475 members of its Class of 2019 on Tuesday, Aug. 18, for nine days of Orientation. See photos and video from Day One of Orientation.
After checking in and getting settled in their residence halls, the new students enjoyed a picnic lunch with their families, received a welcome from President Joan Hinde Stewart, Dean of Faculty Patrick Reynolds, Dean of Admission and Financial Aid Monica Inzer, and Dean of Student Nancy Thompson and then met faculty and administrators at a reception.
Opening ceremonies began on Steuben Field at 3 p.m. where new students met their Orientation Adventure trip leaders and groups and kicked-off their time at Hamilton.
On Wednesday the students will begin orientation adventure trips that provide a fun and friendly atmosphere for easing new students into college life. The three branches are Adirondack Adventure (AA), Outreach Adventure (OA) and eXploration Adventure (XA).
Hamilton's AA, now 31-years-old, is an outdoor program featuring more than 20 trips that focus on biking, hiking, canoeing, rock climbing or kayaking at beginning, intermediate or advanced ability levels. All trips are conducted in various locations in the Adirondacks and guided by experienced student, staff or faculty leaders. Students can bike into the heart of the Adirondacks, canoe on Blue Mountain Lake, or go sea kayaking on Lake Champlain, to name a few.
Outreach Adventure gives students the chance to explore the area surrounding Hamilton while bonding with eight to 10 other new Hamilton students and two upperclass group leaders. Activities may include serving in a meal program for the homeless, working on a Habitat for Humanity construction project, helping with a summer program for local refugee children, or performing environmental service work. Most OA groups stay together in a community center or church "camping inside" in the area where they are volunteering. Students will be working on projects related to construction and rebuilding, hunger and homelessness and on clean-up projects along the Chenango canal trails.
The newest program, eXploration Adventure, offers students the opportunity to explore a topic about which they are passionate. XA trips are theme- or subject-based while sharing the same goal of OA and AA to create a small-group bonding experience for incoming students. Each trip is led by two student leaders, and many will be facilitated in part by a Hamilton faculty member or administrator. XA boasts a wide variety of trip topics, featuring something for just about everyone – from beekeeping to exploring the Mohawk Valley by bicycle to visiting Glimmerglass opera house.