Worldview Photo Contest Winners Provide Glimpse of Study Abroad
---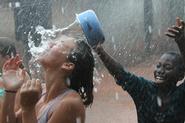 Joyful exuberance in Ghana. Afternoon tea in Mongolia. A Hindu celebration in India. Winners of the 5th Worldview Photo Contest captured the essence of the countries where they studied, in colorful images that reflect a snippet of their time abroad.

The winners were: 1st place, Andrea Wrobel '13 (Ghana); 2nd place, Susannah Spero '13 (Mongolia), and 3rd place, Alison Turka '12 (India).
Dilyana Mihaylov '12 (New Zealand) and Rebecca Weingarten '13 (India) received honorable mentions.

Madeleine La Cotera of the Office of Off-Campus Studies coordinated the contest and reported that 32 entries were received. The contest was last held was in the spring of 2010.
La Cotera remarked, "This year's winning entry does an exceptional job at skillfully capturing a beautiful moment among friends and hosts. The photographer was more than a casual observer; she was also an active participant in an intercultural experience."
The entries showed how Hamilton students studying abroad are engaging with people and places around the world and in the process discovering how they fit in," La Cotera added. "It was a real pleasure to look through all the entries and share in their experiences."

The contest was open to Hamilton students who had been on a Hamilton program abroad or Hamilton- approved program abroad between Sept. 1, 2010, and Dec. 31, 2011.
The entries were judged by a Hamilton student, a staff member and a faculty member.