Information for Accepted Students
CAMPUS VISITS
Join us in Clinton for a
campus visit
. You'll attend an information session, given by an Admission Dean, and take a student-led campus tour.

VIRTUAL VISITS
Take a live Tour From Your Sofa with a student guide, connect with current students in an academic-focused Major Meetup, and drop-in and get your questions answered by an Admission Dean.
Register for virtual events
.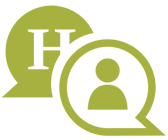 HAMILTON HANGOUTS
With topics ranging from a glimpse inside the classroom to exploring campus living options, these virtual events will introduce you to Hamilton community members and fellow classmates in the Class of 2026. Full schedule is below:
Dean Drop-Ins
Meet with an Admission Dean during a daily drop-in session and get your questions answered. Held the last two weeks of April, Monday through Friday, 3:30 - 4:30 p.m. (EDT)
Please let us know
Ultimately, we hope you choose to attend Hamilton — after all, we wouldn't have accepted you if we didn't want you here! Once you've made your college choice, please notify us of your decision.