Pre-Orientation Programs Welcome Class of '17
---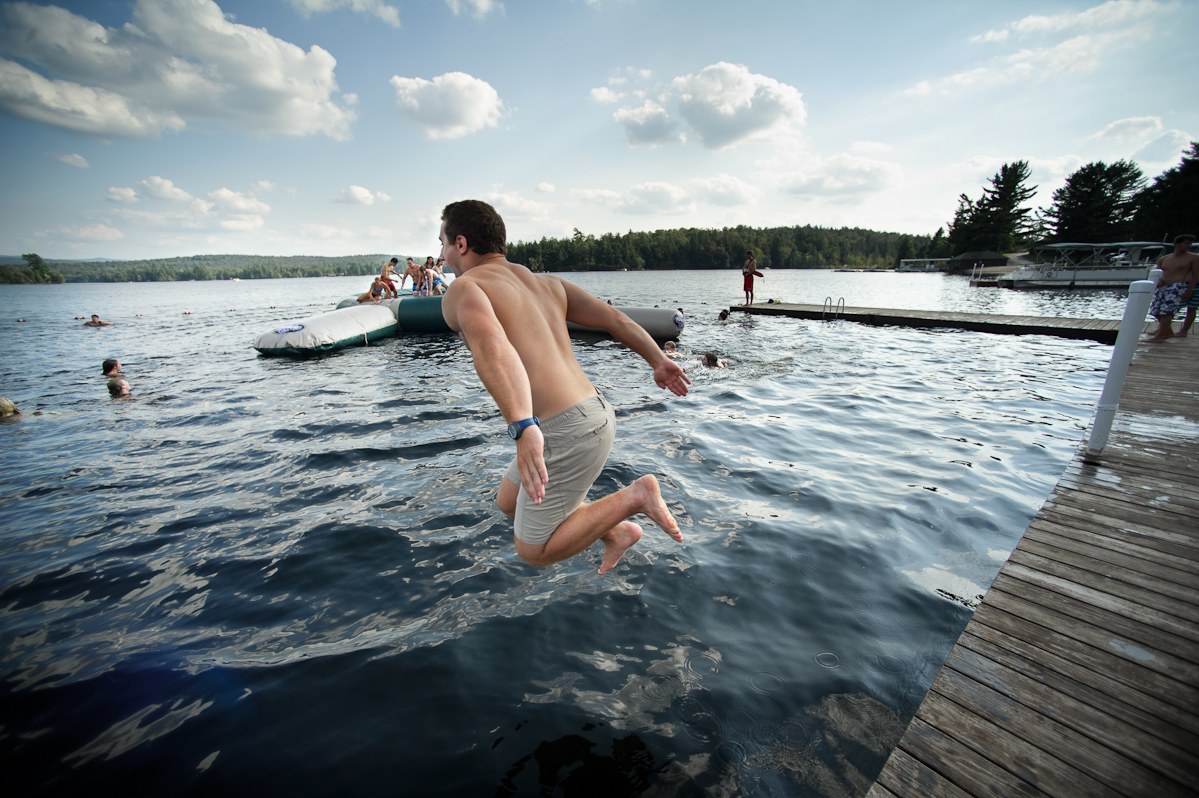 Adirondack Adventure (AA) and Outreach Adventure (OA), Hamilton's pre-orientation programs for new students, welcomed 308 members of the Class of 2017 on Friday, Aug. 16 (see photos). This year marks the largest AA/OA participation ever, with 64 percent of first-year students participating in OA and AA.
AA, now 29-years-old, is an outdoor pre-orientation program featuring more than 20 trips that focus on hiking, canoeing, rock climbing or kayaking at beginning, intermediate or advanced ability levels. All trips are conducted in various locations in the Adirondacks and guided by experienced student, staff or faculty leaders. Students can canoe on Blue Mountain Lake, go sea kayaking on Lake Champlain or hike Grand Traverse, to name a few.
OA offers a parallel option to Adirondack Adventure for those students who aren't interested in outdoor trips, but would like to participate in a pre-orientation experience. These students will do service work at area non-profit agencies. These trips are focused in and around the City of Utica, with groups staying indoors and working with direct service organizations.
This year OA students will volunteer at Rebuilding Together Mohawk Valley, working with Grace Church refugee youth program; Johnson Park Center; Upstate Cerebral Palsy; Hope House; Emmaus House and another group will be working on an organic farm near Lake Placid.
Two new trips this year are Religion in the Wild and New York Frontier Warfare. Religion in the Wild operates in tandem with the new fall semester Hamilton course by the same name, taught by Visiting Associate Professor of Religious Studies Brent Plate. Participants did readings in conjunction with the trip, walking through trees and leafing through pages of ancient philosophers, modern artists, poets and mythmakers. Discussion will begin during the trip and Adirondack Adventure will serve as a stepping stone for further in-class discussions through the semester. The class will return to the "wild" at least twice during the semester.
New York Frontier Warfare is led by Hamilton History Professor Maurice Isserman. In the 18th century, upstate New York was the scene for some of the bloodiest and most significant battles ever fought on the North American continent. The struggle to control the strategic waterways of the Hudson River, Mohawk River, and Lake Champlain was a decisive factor in both the French and Indian war of 1754-1763, and the American Revolution of 1775-1783. The group will walk the battlegrounds and stand on the battlements of those wars, as they visit Fort Stanwix, Fort Ticonderoga, Saratoga National Historical Park, and other sites.
After arriving on Aug. 16, students in AA and OA groups will spend the next day on campus preparing for their trips before departing on Sunday. They'll spend two-and-a-half days volunteering or exploring the Adirondacks, then the two groups will join up for a high ropes course and night at the Outdoor Education Center on Aug. 22. Everyone returns to campus on Aug. 23 to join other members of the Class of 2017 for New Student Orientation, which begins on Aug. 24.