2012 Distinguished Service Award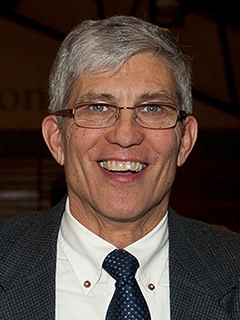 The act of building can take many forms, but it is at the heart of everything you do. Whether overseeing construction of a new campus facility, championing sustainability efforts or motivating student-athletes to reach their potential, your gift for envisioning a successful outcome and converting it into reality has been transforming Hamilton College for the past 15 years.
A graduate of the U.S. Coast Guard Academy, you went on to receive a master of science in civil engineering degree from the University of Illinois. Next came a 24-year career with the Coast Guard where you commanded the cutters Mellon and Escanaba, and served as chief of facilities engineering at the academy. After retiring as captain, you began your second career at Hamilton in 1997. The move coincided with the most progressive construction period in the College's history. As associate vice president for facilities and planning, you have managed a variety of renovation and new building projects including Taylor Science Center, Blood Fitness & Dance Center, Kirner-Johnson Building, Sadove Student Center and Wellin Museum currently under construction. Under your guidance, three buildings on campus now bear LEED (Leadership in Energy and Environmental Design) certification, including the 90-year-old Skenandoa House, the first historic building in New York State to receive the honor.
When not overseeing the building of campus facilities, you lend a hand in building strong athletes as Hamilton's assistant track coach. Your passion for running and mentoring students began at the Coast Guard Academy where you not only coached but also earned distinction as an intercollegiate athlete, competing at the 1973 NCAA Division III nationals in the 880-yard dash. You were inducted into the academy's Athletic Hall of Fame in 2008.
At Hamilton you know most every employee by name, and they know you as friendly, knowledgeable and always eager to lend a hand. As one of your Hamilton co-workers has noted, "Steve is willing to go beyond the requirements of his job. Physical Plant employees respect him knowing that he genuinely cares about each individual."
So it is in building community — both physical and collegial — that you have made your most lasting impact. To acknowledge your many contributions to Hamilton College, the Alumni Association is proud to present you with its Distinguished Service Award.
Citation presented by
Julie Ross '84
President, Alumni Association
March 30, 2012
Contact
Contact Name
Office of Alumni & Parent Relations