2010 Volunteer of the Year Award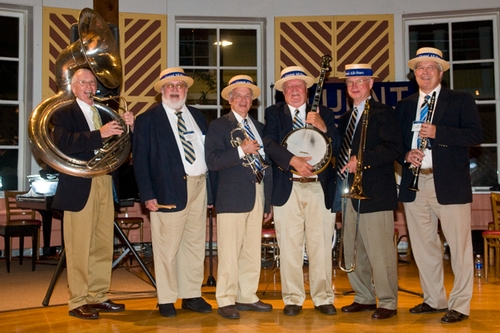 For more than five decades, Hamilton alumni returning to celebrate their reunions could count on strolling familiar campus pathways, reacquainting with classmates and indulging in the joyful, rambunctious sounds of the Alumni All-Stars Jazz Band.
The All-Stars had its beginnings as The Fallacious Five, formed in 1949, and The Catatonic Five, founded in 1952. After the latter's first appearance at a Hamilton Winter Carnival, the band went on to perform at college parties and concerts throughout the Northeast, even landing a gig providing entertainment on ships to and from Europe. The Catatonic Five's ultimate triumph came in November of 1956 with a performance at Carnegie Hall.
The Alumni All-Star Jazz Band began as a trio formed by its pianist, Professor of Art Paul W. Parker. Throughout the 1950s, the band attracted a succession of alumni jazzmen who gradually expanded it into a full Dixieland band. Reunion Weekends became synonymous with the lively syncopated melodies that filled the air. Alumni of all ages swayed to familiar tunes, not to mention the band's original hit "Sandy Don't 'llow no Jazz on Sunday," written after President McEwen (whose nickname was "Sandy") ruled that Dixieland was inappropriate musical fare for Sundays on campus.
Quite possibly the longest-playing college alumni jazz band in the country, members of the Alumni All-Stars through the years have included Robert M. Abrams '53, Donn R. Andre '58, Gordon T. Bourns '58, Emerson L. Brown '56, Martin J. Frankel, George D. Hall '53, John R. Ibach, Jr. '55, Philip B. Mead '59, Paul W. Parker (along with sons Michael G. Parker and William L. Parker, and daughter-in-law Dottie D. Parker), William T. Semple '68, Richard C. Sherman '53 and John A. von Bergen '63.
As bandleader Richard C. Sherman aptly put it in a 1999 article in the Alumni Review, "The All-Stars may have lost their youth, to say nothing of middle age, but none of their pep and passion for playing hot Dixieland jazz." In grateful recognition of your decades of enthusiasm and dedication to the College, the Alumni Association takes great pleasure in conferring on the members of the Alumni All-Stars Jazz Band the Volunteer of the Year Award.
Citation presented by
Julie Ross '84
President, Alumni Association
October 8, 2010
Contact
Contact Name
Office of Alumni & Parent Relations