2005 Volunteer of the Year Award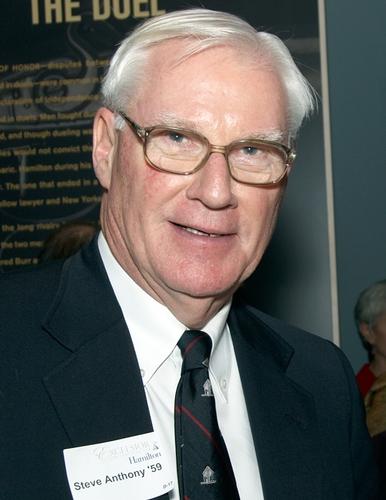 Born in Boston and reared in its suburbs, you once noted that, except for your college years in Clinton, you have lived your entire life just a stone's throw from the Charles River. After graduating from Hamilton in 1959, you headed back to the banks of the Charles to obtain an M.B.A. degree from Harvard Business School. Having found employment in the real estate investment operations of New England Mutual Life Insurance Co., you stayed on in Boston to gain expertise in the real estate field. In 1982, you became a founding partner of Copley Real Estate Advisors, and with your guidance as a principal and managing director, it was soon a significant player not only on the local real estate investment scene but nationally as well.
In addition to contributions to your native area through your business activities, you have served it in numerous volunteer capacities. They have included the presidency of Greater Boston Community Development, Inc., a nonprofit organization dedicated to providing housing for low- and middle-income residents. During your tenure on its board, its many projects have resulted both in better housing and in neighborhood conservation.
On College Hill far from the Charles, your volunteer activities have also made an enormous impact. A devoted Hamiltonian and onetime president of the Eastern New England Alumni Association, you have enthusiastically assisted the College in virtually all of its alumni activities. Elected as an alumni trustee in 1988 and a charter trustee in 1993, you have chaired the board's Budget and Finance Committee and currently chair the Committee on Buildings, Grounds and Equipment. In that capacity, you have been intimately involved with the College's building projects from inception to completion. And, as chair of the subcommittee on the Science Center's design, you have not only closely monitored the largest building project in Hamilton's history but also traveled extensively to other college and university science centers to appraise them and make sure that Hamilton's new center incorporates the best design ideas.
Beyond building projects, however, you and your wife Barbara have been warmly welcoming hosts to Hamiltonians whenever they are in the Boston area, whether it be presidential visits, Rising Star luncheons or Annual Fund breakfasts. An abiding affection for Hamilton also brings you and Barbara back to the Hill on frequent occasion, and your presence on campus is always greeted with the delight we all feel upon seeing dear friends again.
On any occasion, it would be a very great pleasure to extend to you our profound gratitude for your many contributions to Hamilton. But on this particular weekend, highlighted by the dedication of our new Science Center, in whose development you have played such an important role, it is especially fitting for the Alumni Association to heartily salute you with its Volunteer of the Year Award.
Citation presented by
Alumni Association President
September 30, 2005
Contact
Contact Name
Office of Alumni & Parent Relations