2001 Volunteer of the Year Award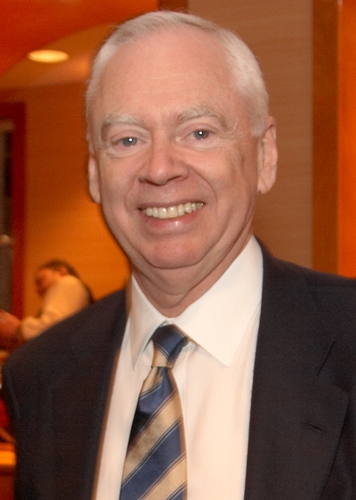 The College's strength and standing is largely derived from the generous commitment of its alumni to volunteer efforts on its behalf. Hamilton is indeed fortunate in benefiting from the enthusiastic support of so many of its graduates, who faithfully contribute their time and energies to their alma mater year after year. Among those faithful volunteers, none has a more consistent and exemplary record of service than you.
You came to College Hill from nearby New Hartford and as an undergraduate compiled an impressive record of campus and community service, including presiding over the Debate Club and starting up a concert and marching band. You went on to earn your law degree from the University of Chicago, and after a few years in private practice, began a quarter-century career with the Bristol-Myers Co. Following your retirement as vice president and associate general counsel in 1994, you moved to the nation's capital to become executive vice president and general counsel of Pharmaceutical Research and Manufacturers of America.
During your long career in the pharmaceutical industry, you unfailingly found time for the College, and especially its student recruitment efforts. Once remarking that, "It is a very rewarding experience to find a bright, motivated student and help him or her sift through the possibilities and discover Hamilton," you personally and successfully encouraged good prospective candidates to journey along that path of discovery, including, we are happy to note, your own two sons.
Over the years, besides chairing the admission committee of the Alumni Council when it was newly formed in 1979, you served as president of the Alumni Association from 1982 to 1984 and as an alumni trustee of the College from 1990 to 1994. You also participated actively in every Hamilton fund-raising campaign over the past three decades, and your volunteer activities currently encompass the Career Center and the Levitt Center, as well as the Office of Admission's WAVE?program. And in Washington, you graciously host Hamilton gatherings of many kinds.
Truly, you are not only the volunteer of the year, but of a multitude of years, and it is therefore more than fitting that the Alumni Council, on behalf of the Alumni Association, presents to you, out of profound gratitude and appreciation, this award.

Citation presented by
Alumni Association President
September 21, 2001
Contact
Contact Name
Office of Alumni & Parent Relations