1995 Bell Ringer Award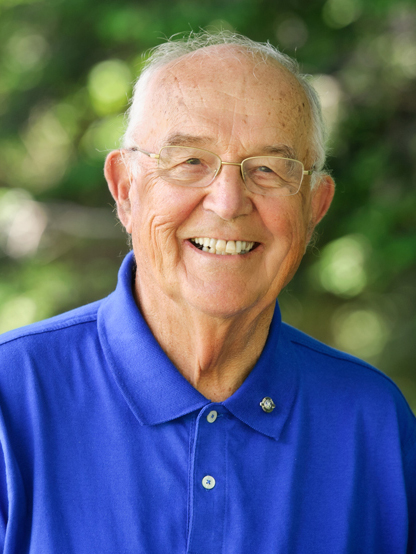 A native of Newark, you grew up in the Garden State and found your way to this Hill with the Class of 1945. Although the destruction at Pearl Harbor soon cast a shadow over the future, you remained in college long enough to letter in football during those days of Forest Evashevski and "Mercury Milt" Jannone. Called to the colors in 1943, you spent three years in the Air Force before returning to campus and finishing your studies in 1947.
During the decades that followed, you taught mathematics and coached an impressive variety of sports in New York and New Jersey high schools. You also became an enthusiastic participant in Hamilton alumni affairs, serving as president of the Northern New Jersey Alumni Association, secretary of the Alumni Council, vice president of the Society of Alumni, and, from 1967 to 1970, as the College's director of alumni affairs. Thereafter you resumed your teaching and coaching career at Clinton High School, where you remained for 16 years until your retirement.
As a Clinton resident, you have generously devoted your energies to both town and gown. For example, you and your wife Mickey were the first resident directors of Clinton's highly successful ABC program, which offers promising minority students a better chance for a college education through high school preparation in Clinton. A program dear to your heart, you remain today among its mainstays. Also, you have for many summers coordinated Hamilton's Elderhostel program, which brings people to the campus from near and far for further learning, while incidentally acquainting them with the College. Finally, a word must be said about your impressive mastery of Hamilton athletic history and lore. You stand before us as living proof that there is no substitute for the human memory bank, even in this age of the Internet.
As you celebrate this 50th Reunion weekend with your classmates, we wish you to know how much we appreciate your countless contributions both to Hamilton and to the Clinton community. The College may be geographically a bit removed from the Village, but through your efforts up hill and down, you have bridged the two in most beneficial ways.
Citation presented by
Alumni Association President
June 3, 1995
Contact
Contact Name
Office of Alumni & Parent Relations