1985 Bell Ringer Award
Citation for William H. Areson '34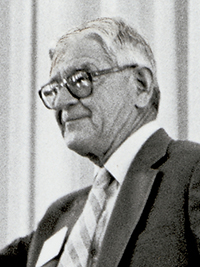 The continuing loyalty of its alumni is Hamilton's greatest source of pride and strength. They sustain it and cause it to flourish. That the College is today flourishing as never before is a faithful reflection of the ardent dedication of its graduates and non-graduates alike. They not only contribute their treasure, but their time and energies as well. Many toil in the green fields of fund raising, and their labors bring forth a fruitful harvest, without which our college would be in so many ways a poorer place.
It is therefore fitting that we pay tribute to a remarkably diligent toiler in those green fields, one who never rests until his full harvest quota is met. Many are called by their alma mater, usually by way of Ma Bell. But in the entire alumni roster, no one had heeded the call with greater alacrity, or responded more enthusiastically, or made more calls on her behalf in turn, than William Henry Areson, better known to us all as "Bus."
Although you left this Hill after only three years, your abiding loyalty has proven that disaffection was not the cause. Instead you were lured away from Latin and into accounting, no doubt with practical considerations in mind. But we like to think that your lifelong fascination with money, at least in the form of a balance sheet, began here at Hamilton as treasurer of your class. While working as a bank clerk, you attended night school at N.Y.U. Equipped with a degree in accounting, you became a C.P.A. Later you were treasurer of a large textile concern, president of a machine manufacturing firm, and a director of several corporations. Now residing in Florida, you still privately practice a little accounting on the side.
It is not surprising that one of your earliest Hamilton-related offices was as treasurer of the Metropolitan New York Alumni Association. More recently you have been chairman of the 175th Anniversary Campaign in Sarasota, and 50th Reunion gift chairman for the Class of '34. In the latter capacity, you successfully persuaded every one of your classmates to participate, and you deservedly earned a share in the Couper Cup. Currently a member of the Major Gifts Committee, you are also a staunch supporter of the Emerson Gallery. You have helped to endow its acquisitions fund, and thanks to your generosity, the first purchase for the College Collection- a magnificent lithograph by George Bellows- was recently made.
We have heard it said that you are one "bus" that never stops, nor do you even slow down. May you forever be fueled with boundless energy as you continue your journey down life's road.
Presented by the Alumni Council Chair
June 8, 1985
Contact
Contact Name
Office of Alumni & Parent Relations