1991 Bell Ringer Award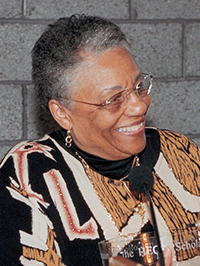 You have had two distinguished careers of almost equal duration. In the first, you seized the opportunity to prove what you could do; in the second, you have selflessly devoted your energies to help others gain in opportunity for successful careers of their own.
For 20 years, as an officer of logistics in the United States Air Force, you compiled an admirable record of military service, which included assignment in Vietnam. Awarded the Air Force Commendation Medal and a Bronze Star, you left the service with the rank of lieutenant colonel and settled in New york as a field representative for the state's Division of Human Rights. That appointment turned out to be the bridge between your two careers, for a few months later, in December 1971, you arrived on this Hill as director of the Higher Education Opportunity Program for Hamilton and Kirkland Colleges.
Now, almost 20 years later, you continue to assist students from disadvantaged backgrounds in preparing for college entrance and in shepherding them through four years at Hamilton. You have been their devoted mentor, their counselor, their advisor, and, when necessary, their goad. Also, you have used all your considerable wiles to battle and cajole on their behalf. As a result, the HEOP record at Hamilton has been one of remarkable success. The overwhelming majority of your charges have gone on to receive their degrees, and they are now carving out careers of their won. In promoting and supporting opportunity for these young people, you have helped them realize their potential and enriched their lives. And you have also enriched the lives of all on College Hill by helping to increase the community's diversity. For your two decades of faithful service, we, Hamilton's alumni, are truly grateful, and hereby extend to you our profound thanks.
Contact
Contact Name
Office of Alumni & Parent Relations