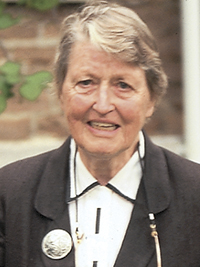 Closely, and with her customary acuity, Eleanor Walsh Wertimer has observed the comings and goings, the ebb and flow, and the many changes ­shaping Hamilton's history over the past half-century.

And far from merely observing, she has been an active participant not only in the life of the College but also in the wider community beyond the Hill.

A native of Buffalo and graduate of Smith College, Eleanor Walsh returned to her hometown to earn a law degree from the University of Buffalo, at a time when there were few women in the legal ­profession. While practicing law, she began what is now 54 years of married life with Sidney Wertimer, Jr. In 1952, when he was offered a faculty position at Hamilton, Ellie and Sid arrived on the Hill with their Austin ­station wagon. The Austin is long gone, but to our great good fortune, the Wertimers remain.

After guiding four children well on the road to adulthood, Ellie Wertimer went back to the law as a judicial clerk and later as an attorney for the Oneida County Department of Social Services. She subsequently served for more than a decade as executive director of Family Services of Greater Utica, and for two decades as Kirkland town justice. In addition, she has been enthusiastically engaged in community ­service as a member of numerous boards, including the Clinton School Board, the Childrens Hospital, the Childrens Museum, the YWCA, the Utica Chapter of the American Red Cross, and, especially in recent years, the Greater Utica Area United Way.

Certainly it is not surprising that her many community contributions have been recognized with a number of awards, most notably the Hugh R. Jones Award, named for Judge Jones '35, and presented by the Oneida County Bar Association in 1997. It salutes the lawyer who has made outstanding contributions to the bar and the community, and incidentally, Ellie was the first woman ever to receive it, the Association's highest accolade.

Closer to home on College Hill, Ellie Wertimer has joined with Sid in generously and unfailingly extending friendship and hospitality to generations of students and visiting alumni. Those are the kinds of community contributions that do not show up on résumés, but are nonetheless most personally meaningful and warmly appreciated. Ellie Wertimer once remarked that, "If you live long enough, your résumé gets very long."
Ellie, your résumé, no matter how long, could never adequately reflect all your manifold achievements. And on this occasion we are delighted to chime in with our own heartfelt salute for all you have done and continue to do.

Citation presented by
Alumni Association President
June 2, 2001
Contact
Office of Alumni Relations