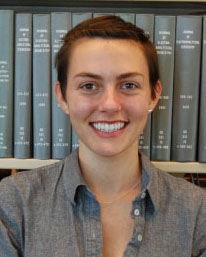 Research and First Year Experience Librarian
arihm@hamilton.edu
315-859-4321
Alexandra (Alex) Rihm joined Burke Library's research and instruction team in Summer 2014 and is excited to work with first year students and the faculty who teach them. Originally from Washington DC, Alex lived most recently in Seattle where she earned her MLIS at the University of Washington while working as a reference and instruction assistant at UW's undergraduate library. She received B.A. degrees in Hispanic Studies and International Affairs from Lewis & Clark College in Portland, Oregon. Outside of work Alex enjoys cooking and hiking and is looking forward to discovering all that central New York has to offer.

Current Interests and Activities
Alex is eager to integrate library services across campus and hopes to partner with Residence Life, the Writing Center, and other campus stakeholders to involve the library in all aspects of the First Year Experience.
First Year Information Literacy Learning Outcomes

Liaison Areas
First Year Experience
Hispanic Studies
Latin American Studies


On Campus
M-F, 8 a.m.-4:30 p.m.
and by appointment
Unscheduled visits welcome!


More Help

Instruction Feedback