SiteManager - What is a site? How do I navigate one?
Last updated: November 11, 2022
What is a site?
A site contains a collection of related webpages.
In SiteManager, the sections of the websites that you have the rights to edit will appear under My Sites. Click once on the name link to see the contents of the site.


Why don't I see any sites?
You have not been given access to any sites.

Did you take a SiteManager training class? If not, contact Maureen Scoones.
Are you editing an official college site? Access is given during the required Working Sessions.
Navigating Around SiteManager
There is a hierarchy that defines the navigation in SiteManager. Depending on where you are in the hierarchy, you have different options available to you.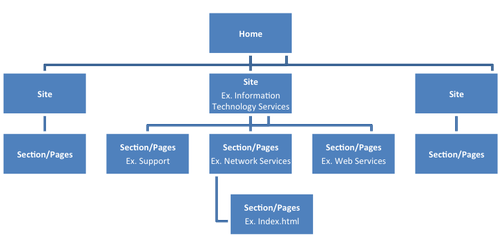 Home is at the top. Sites contain sections (organize like items together) and pages. Pages are made up of modules.
SiteManager provides "bread crumb trail" navigation, so you can always quickly get to a site, section, or page.


Note: The first page you make in your site is the "home" page, noted by the icon of the house. You can make any page the home page by clicking the make home link in the page options.

Site options: settings
Section options: settings, move, delete
"Home" page options: view, edit, settings, move, archive, delete
Page options: view, edit, settings, move, make home, archive, delete
Office Location
Burke Library
198 College Hill Road
Clinton, NY 13323
Hours
Mon-Thu 8 a.m. - 10 p.m.
Fri 8 a.m. - 8 p.m.
Sat - Sun 10 a.m. - 10 p.m.