Help Desk & Training Services
Hours:
M-F 8:30 a.m. - 10 p.m.
Sat. - Sun. 10 a.m. - 10 p.m.
The instructions on this page will guide you through installing the VPN client on your Windows 8 or Windows 7 computer.
NOTE: The VPN client cannot be installed on a computer connected to the Hamilton network, either via Wi-Fi or a network jack. These instructions should only be followed on an OFF-CAMPUS computer.
Introductory and Instructional Video
This video will help you understand why VPN is being used at Hamilton:
Installation Instructions
Note: If you receive a message stating that the web-based installation was unsuccessful, please follow our instructions to perform a manual installation.
To begin your installation, open your web browser, e.g. Firefox, Chrome or IE.
In the location box, type the URL https://outside.hamilton.edu. Note: the "s" in "https" is required.
In the login dialog box,

Enter your Hamilton network ID and password, (e.g. jdoe, do not include @hamilton.edu)
Then click Login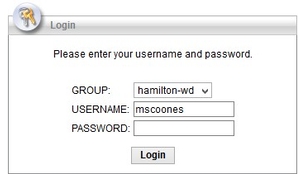 In the Network Access Warning window, click Accept.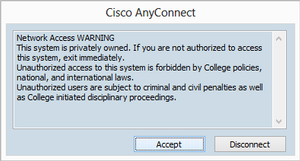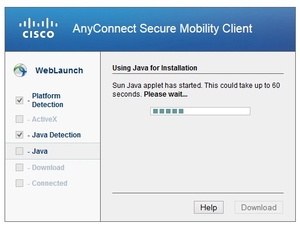 ​
NOTE: If you receive a window that indicates the automated installation failed, this is due to a variety of reasons, one is if the Java on your computer is not updated. You can either update Java on your computer or follow our instructions for a manual installation.
The Cisco AnyConnect VPN Client installer will start automatically.
In the next screen that appears, click the Run button.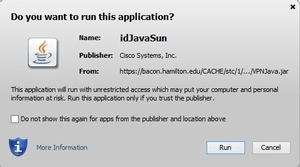 Don't Block the application from running.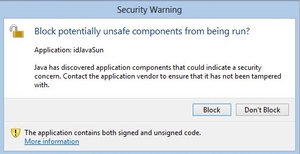 Yes, allow the application to make changes to your computer.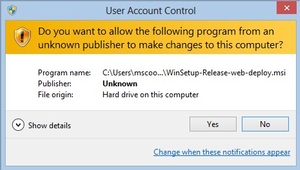 The VPN Client Downloader will start.
When the installation is finished, a connection to Hamilton will be started automatically.
The Connection Established message includes a screen shot of the icon that you will find on the right side of screen in the Taskbar Notification area.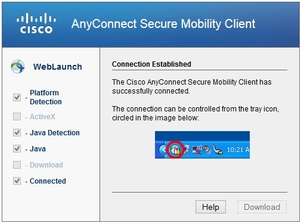 Click on the icon to verify your connection, or to disconnect when you are finished with your session.
Connecting and Disconnecting
When you want to start a new connection to the VPN, Simply click on the VPN icon in your Taskbar notifications area,
The Cisco AnyConnect Client will open.

Verify that the under Ready to connect that outside.hamilton.edu is populated.
Then click the Connect button.

Enter your username and password, click OK to continue.
A dialog window with the warning against unauthorized use will pop-up.

To continue, you must click the Accept button.

You will then be connected to the Hamilton VPN.

You can confirm this by mousing over the VPN icon in your Taskbar notifications area, and receiving the message indicating that the VPN client is connected.

At this point, you will be connected to all of your normal Hamilton College network resources.

Clicking on Computer on your desktop or in the Start menu will show you your network drives, including your personal and department folders on ESS (as long as you created the appropriate drive mappings).
If you wish to start a Remote Desktop connection to your office computer, you can safely initiate that session now.

Remember to disconnect your session when you are finished.

Just click on the VPN icon in the tray, then click Disconnect.
Last updated: June 3, 2016