Last updated: February 8, 2021
By default, without any input on your part, CrashPlan will be configured to back up any user profile (C:\Users\ for PCs or /Users/ for Macs) of anyone who logs on to your computer, and any files and folders at the root of your hard disk that are not operating system or program/application files. This setup should work appropriately for the majority of users without any further modification. If you would prefer to change what does or does not get backed up, however, you have that ability.
To do so, open the CrashPlan application by clicking on the icon in your system tray (Windows), or in the status bar (Mac). Select "Open Code 42 " or "Show Application."
The CrashPlan application will open and display the Welcome screen. Click on the "Details" link next to the computer you want to manage.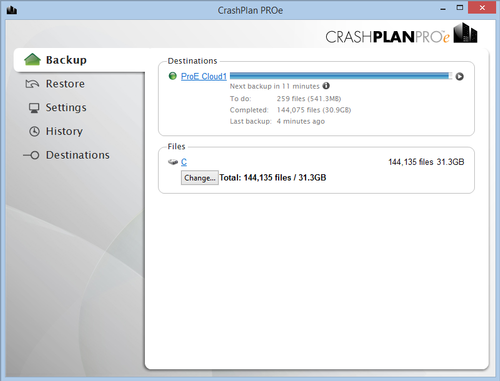 The next window will present a list of all that is or is not backed up on your hard drive, as indicated by check boxes. You can browse through this view of the file system to select additional folders you want backed up, or to deselect folders you do not want backed up.
Most of your own files will be located in folders within your user profile (C:\Users\*your_username* on Windows, Macintosh HD/Users/*your_username* on Mac). By default, all of your files are backed up, but you can choose to not back up certain folders if you prefer.
After you've made the changes you desire, click the Save button and they will take effect.
Contact
Team Name
Desktop Integration Services
Office Location
Burke Library
198 College Hill Road
Clinton, NY 13323