Accessing the Academic Server
---
Research & Instructional Design
Overview
The Academic Server provides storage for data related to coursework and research that faculty and their students share for a class, research project, or another academic pursuit. If you would like to request a folder on Academic, please use this form. LITS will provide our "standard setup" on this server. See details, below:
Individual student folders – Students have full access to their own folder
Shared folder– Enrolled students have full read-write-execute access
Data folder – Enrolled students can read and execute
DropBox folder – Enrolled students can write only
Accessing Files using a Mac
From the main menu bar, select Go - Connect to Server.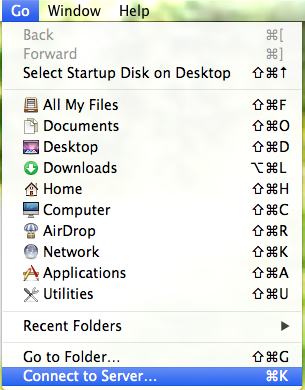 In the Connect to Server window, type academic in the Server Address field.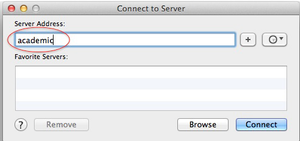 Click the Connect button.
Select the desired folder and click the OK button.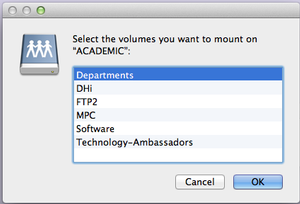 Accessing Files on a Windows PC
Faculty and students can double click on the Computer icon on the desktop and then double click on the (K:) drive icon.
Or
From the Start Menu, select Network.
In the address bar of the resulting window, type \\academic.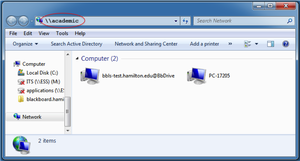 Press the Enter key on the keyboard.
Double-click on the desired folder to open it.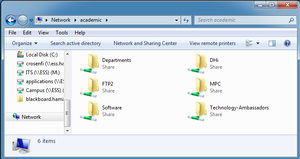 Connecting to the FTP2 folder using Cyberduck
Note: The only folder on the Academic server that supports FTP access is //academic/FTP2.
Download and install Cyberduck
After launching Cyberduck, click on the Open Connection button.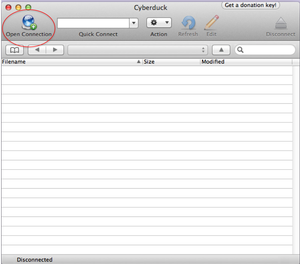 Type ftp2.hamilton.edu in the Server field and then enter your login information.
Click the Connect button.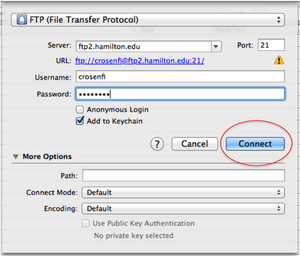 When the Unsecured FTP connection prompt appears, click Change.

Navigate to the desired folder.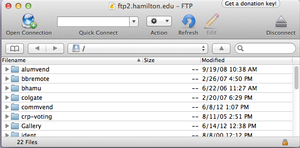 To Upload Files
Right-click (or hold Control then click) on the file list window and select Upload.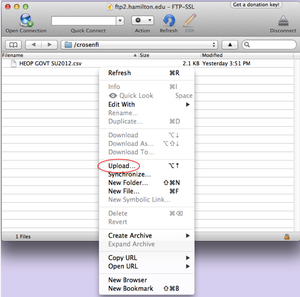 Navigate to the desired file and click the Upload button.

To Download Files
Right-click (or hold Control then click) on the desired file and select Download To...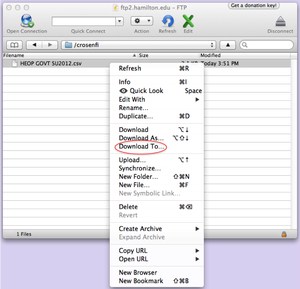 Select the folder into which the file will be downloaded and click the Choose button.
Related Search Terms: server Migration
Last updated: August 31, 2017