Registering and Logging into Citrix
---
Research & Instructional Design
Registration
If this is the first time you are trying to login to Citrix, you MUST REGISTER. The link for registration will appear once you login to the Citrix using your Hamilton credentials. Make sure to change "Domain" to "Students.hamilton.edu" before pressing "Log On." Once you login, you will be notified that you need to register. Press the registration button and login again using your Hamilton credentials. Students will also need to re-register every academic year. Once you register, it will take approximately ten minutes for all of the systems to be updated with your access information. After about ten minutes, attempt to log in. Start here.
Step-by-step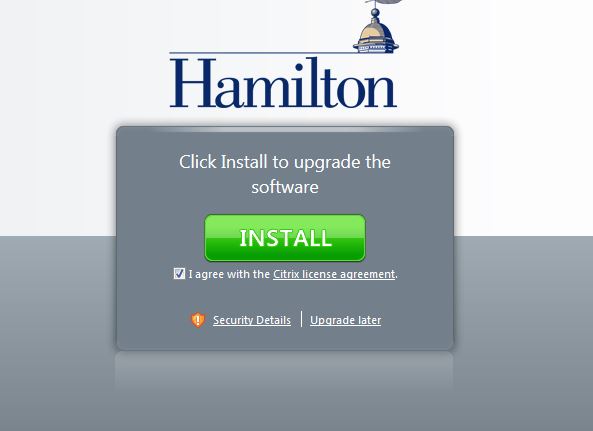 Check "I agree with the Citrix license agreement" and press "Install"
If you are on a personal computer, save the executable and install the Citrix receiver. Otherwise, just press "Cancel" on the dialogue box and then click "Continue" on the web page.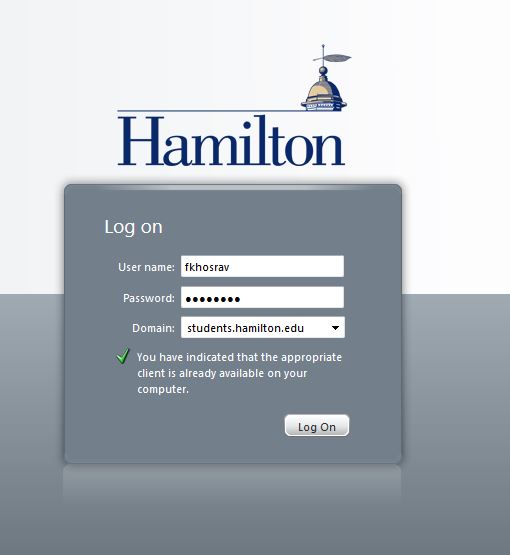 First change the Domain to students.hamilton.edu. Then type in your Hamilton credentials and press "Log On".

Then you will arrive at this screen, and press the link at the bottom.

Click on "CREATE MY CITRIX ACCOUNT".

Congratulations, you now have access to Citrix.
Logging into Citrix
Once you are registered, log in to the Citrix Web Portal. The username you should use is the same as your My Hamilton username. The password is the same password you use to access the SSS or ESS servers. If you are a student, you will need to change the Domain dropdown to students.hamilton.edu.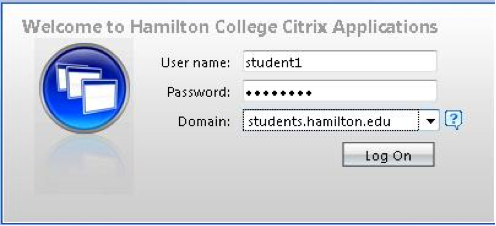 If a matrix of applicationsmatrix full of applications

appears, please navigate to the Introduction to Citrix webpage.
Else, proceed to the Installing Citrix Client webpage.
Last updated: March 22, 2017